THOMPSON, CONNECTICUT USA
Numa, the world's leading drilling technology provider, will be exhibiting at CONEXPO-CON/AGG 2020, North America's largest construction trade show, taking place in Las Vegas, Nevada from March 10-14, 2020. Numa will be exhibiting in Central Hall booth C32239 with drilling experts on hand to discuss any drilling needs.
The exhibit will include Numa's full line of rock drilling hammers and bits, capable of drilling in a wide range of rock formations and conditions. A special spotlight will be Numa's Super Jaws Overburden Bits, used for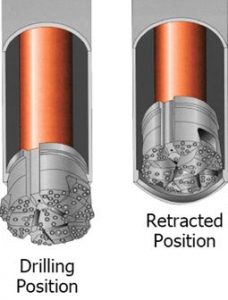 simultaneously drilling and casing 5½" to 42" (139 – 1,067 mm) holes in hard rock and unconsolidated ground conditions of overburden, boulders, or bedrock. With its unique design, Super Jaws utilizes wings that extend out to drill a full diameter hole while in the drilling position. Upon completion of drilling, the wings retract back into the guide body for extraction of all tooling to the surface while leaving the casing in place. There is no reverse rotation required, nor any expensive rings left in the hole, which saves drillers time and money in applications around the world.
Super Jaws is available in two versions, Drive Shoulder and No Drive (ND) Shoulder. The Super Jaws bit with Drive Shoulder utilizes a drive shoe welded to the front of the casing, so the bit and casing advance simultaneously as the Drive Shoulder on the guide body contacts the drive shoe. The Super Jaws ND (No Drive) version allows the use of thick wall casing or thick wall threaded casing. The guide body has no drive shoulder and the casing is advanced via a casing hammer, duplex diverter, or dual rotary.
Stop by and visit Numa in Central Hall booth C32239.
 ABOUT NUMA
Numa is the world's leading drilling technology provider, dedicated to ongoing product innovation and results-oriented consistency. We've built a strong legacy of high quality, U.S. made DTH hammers and bits for drilling holes 3½ -50½ inches (89 -1283 mm) in diameter. With over 100 DTH hammer and bit products serving 11 different industries, our products are capable of drilling vertical, horizontal, and reverse circulation holes in hard rock and unconsolidated formations.