Shropshire County Council of England was in need of a solution when they recently approached Barhale Construction PLC in an effort to reach an engineering solution to a disruptive problem. At a site near Hope in Shropshire County, a retired collapsed mine adit had filled with water leading to localized subsidence and temporary closure of a nearby roadway. A steel pressure drain was required to release water from the adit to a nearby river.
Since the drain was needed in an extremely confined area, Barhale contacted Euro-Iseki to help provide a solution to this challenging assignment. Euro-Iseki recommended a drilling system that has resulted from a joint venture partnership with Numa, a leading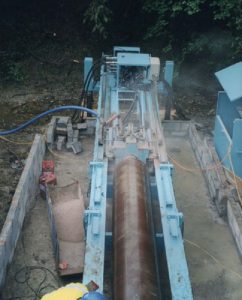 designer and manufacturer of down hole hammers and bits used for rock drilling. The joint venture EIL-Numa horizontal drilling system combines Numa's leading edge down hole hammer and bit engineering with EIL's technologically advanced microtunneling products. Specifically, the drilling system is broken down into two components, EIL's rig and Numa's Impact Ring Bit System®. Together, the EIL-Numa horizontal drilling systems provide drillers with the fastest and most cost-effective means of drilling horizontally to install casing through hard rock and difficult ground conditions. A further benefit is its ability to operate efficiently under considerable ground water pressure.
Central to the design of the EIL-Numa system is Numa's Impact Ring Bit System® that consists of a unique two-piece design incorporating a center and ring bit combination. The center bit is attached directly to the DTH hammer that is used to power the drilling while the ring bit is welded to the casing being installed. The hammer and center bit are inserted through the casing and the two bits work in unison to install the casing while drilling. Upon completion of the hole, the center bit and drill string can be pulled back out of the hole leaving the casing installed. The ring bit is also fully recoverable in horizontal applications that utilize pit-to-pit drilling techniques. This provides the added benefit of lower equipment costs because the product can be used again and again on multiple projects.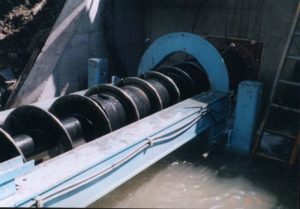 This project involved an old, abandoned mine near Hope that had filled with water and was leaking on an adjacent roadway causing significant damage. With the mine's adit directly next to the A488 roadway and a river directly on the other side of the road made the construction of a reception shaft completely impractical due to the confined area. Another problem was that the ground conditions in the locality were made up of fissured mudstone, siltstone and sandstone that were too strong for a conventional tunneling or auger systems. A third problem was that the drain was required to go under the roadway and down a steep gradient. All of these problems would be significant obstacles for most drilling systems but not for the EIL-Numa drilling partnership due to its ability to drill horizontally in rock conditions while not having to dig a trench to install casing. Drilling almost completely underground would save considerable amounts of time and money because there would be no need to dig up the road, congest traffic, repave surfaces or backfill trenches.
In conjunction with Barhale, the drilling team set out to complete the 174-foot (53 m) horizontal drive with an EIL manufactured rig that was adapted to utilize 20 foot (6 m) lengths of augers and casing. The rig, fitted with hydraulically adjustable legs, was set to bore at an angle of 1:26. As the area was classed as environmentally sensitive, Euro Iseki used a 1550 cfm (730 l/sec) oil free compressor supplied by Aggreko and environmentally friendly hammer lubrication oils. Compressed air at 150 psi (10.2 bar) was fed to the hammer through hollow stem augers, which also helped to facilitate cleaning the hole while drilling.
The drilling process was very simple as the rig with a Numa 125 hammer and an Impact Ring Bit was set-up at the banks of the river to tunnel under the roadway while simultaneously pulling 24-inch (610 mm) OD steel casing. Encountering various rock formations and substantial high heads of water, the hammer and bit drilled at 8 feet (2.4 m) per hour before exiting the rock formation at its completion point in the mine's adit. The hammer and center bit were then pulled back through the pipe leaving it securely in place. With the pipeline successfully installed, the vast amount of water in the mine became apparent as water flowed out the entire diameter of a 23-3/8 inch (600 mm) diameter pipe for almost five (5) hours.
The EIL-Numa horizontal drilling system proved to be the right solution for this rock drilling application. With good communication between Barhale and Euro-Iseki at all levels, the project that was scheduled to take three (3) weeks was completed in just one (1) week and much to the satisfaction of Shropshire County Council as the drain will continue to protect the roadway for years to come.
Get to the bottom of it with Numa's horizontal directional drilling products.