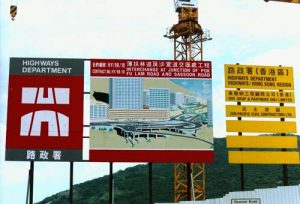 The Highways Department has awarded a major road interchange project to Zen Pacific Civil Contractors Ltd. to further advance the extensive infrastructure development being completed in Hong Kong. Located in the vicinity of the Queen Mary Hospital at the junction of Pok Fu Lam Road and Sassoon Road, the project involves extensive foundation drilling which has been subcontracted to Goodwill Construction & Engineering Ltd.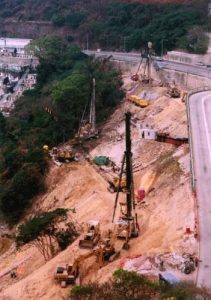 The construction site is located on a steep hillside that consist of Grade III & Grade IV granite with a limestone/marble section. Because of the difficult conditions, careful planning was required in order to allow four drill rigs to be erected and between foundation holes without interfering with other work being conducted in the confined area.
The project involves the construction of new interchange ramps along the hillside that will be completed in two phases. Phase I requires 600 mm foundation holes to be drilled for H-beams that will be concreted in place. Drilling with Numa Champion 180 down hole hammers and bits,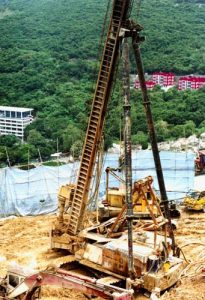 approximately 300 H-beam piles, 305 x 305 mm, 223 & 240 kg/m, will be installed to depths between 10m and 40m.
In most instances, single level pile caps are typically square and are supported by four vertical piles with one located in each corner and four piles raked at 1 in 4, one in the middle of each side.
Due to the steep terrain and to accommodate the sloping ramps, two level and three level pile caps with as many as sixteen piles per group, vertical and raking, were required.
Once Phase I is completed, the existing single ramp to the highway will be demolished and Phase II will be implemented to complete the new interchange ramps. The project is scheduled to be completed in mid 2001.