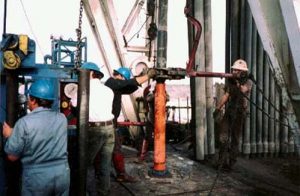 Geological studies showed Chevron, one of the world's leading natural gas producers, that there were promising natural gas deposits in West Texas. The problem was that the natural gas was extremely deep – an estimated 17,000 feet (5185 m) below the surface. Due to this great depth, the drilling contractor required a hammer that could provide continuous drilling without the incident of drill or bit failure and a costly restart.
The hole was started at the surface with a Numa 125 hammer and 17-1/2″ (445 mm) bit that drilled the first 1,200 feet (366 m). A 14-3/4″ (375 mm) bit powered by the N125 drilled the next 800 feet (244 m) at which point a 12-1/4″ (305 mm) bit was installed. Drilling at this diameter continued until 4,000 feet (1220 m) below the surface when a Numa 80 hammer and 8-3/4″ (222 mm) bit was placed down the hole. This hammer and bit combination proved to be the workhorse of the drilling, performing flawlessly to a depth of 12,000 feet (3660 m). At this point, it was estimated that the gas reserve was still some 5,000 feet (1525 m) down. A Numa 60 hammer with a 6-3/4″ (171 mm) bit was lowered down the hole and drilled to 16,000 feet (4880 m). With approximately 1,000 feet (305 m) remaining, the contractor began drilling with a Numa 40 hammer and 4-3/4″ (121 mm) bit. The hammer finally tapped the deposit, striking gas not at the predicted depth but at a record breaking 17,600 feet (5368 m) below the surface.
A depth this great required DTH products that could get results without any excuses. Inherent in the design of all Numa hammers is the ability to efficiently handle increased volume and back pressures. Supplied with 4800 cfm (2266 l/sec) and drilling over 3 miles (5 km) below the surface, the Numa hammers were able to keep drilling where other hammers would have quit. The Numa DTH product line proved it has the muscle and longevity for even the most demanding drilling conditions.