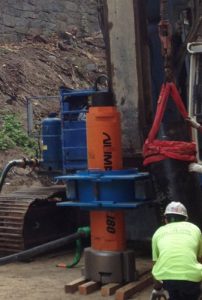 A landslide occurred when a portion of a stone retaining wall collapsed in Old Croton Aqueduct State Historic Park, sending mud and debris up against a senior housing complex. The 150 year old wall appears to have given way due to saturated ground conditions caused by a leaking water pipe, recent heavy rains, and melting snowpack resulting from higher temperatures. The collapse sent a wall of debris 24 feet (7 m) wide down an embankment and deposited 4 to 6 feet (1.2 – 1.8 m) of mud up against the housing complex. The mud and debris blocked access doors to the building and caused possible structural damage resulting in the dislocation of approximately 110 residents. Luckily, no injuries were reported.
After clean-up was complete, the old retaining wall needed to be addressed to prevent future issues. The State of New York, responsible for the property, contracted with industry leader Moretrench to drill 97 holes for a new retaining wall. Moretrench is a nationally renowned geotechnical contractor specializing in design/build solutions to meet the diverse conditions and construction challenges that impact so many of today's projects.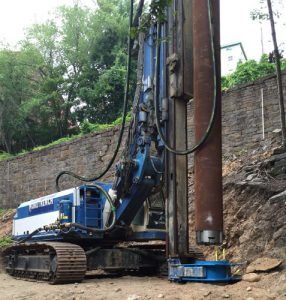 With other portions of the 150 year old wall at significant risk of collapsing, the Moretrench team got to work. The new retaining wall project called for the installation of 24″ OD x 23″ ID casing adjacent to the previous wall. Once drilled, H-Beams were to be grouted into place to provide the necessary support for the new retaining wall.
The Yonkers site presented many challenges with significant sloping and unstable terrain. The environment required Moretrench to build an earthen bench to provide a safe, flat drilling pad for the work required. A Bauer Track Rig RTG RG 19T was used to complete the bench and drilling was completed with the same rig with 2 Doosan HP 1600CFM/200PSI (1510 l/sec, 13.8 bar) compressors added.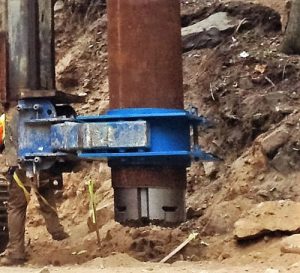 The ground formations at the site were varied, consisting of gravel, boulders, backfill, and rock pads. To conquer this, Moretrench teamed with DTH technology leader, Numa, and distributor Star Iron Works to drill with Numa's Patriot 180 hammer and T580ND Super Jaws Overburden Bits. "On previous projects, we found Numa's Super Jaws to be the best method for drilling in loose, unconsolidated ground conditions," commented Moretrench's Mike Fattorusso, Project Manager. "And Super Jaws did not disappoint at the site in Yonkers, providing great performance in a difficult environment." In addition to great products, Numa also provided on-site support with Construction Product Manager Kris St. Onge who provided insightful, technical expertise.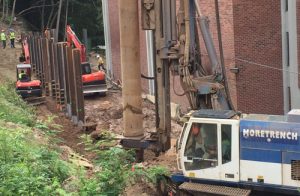 A total of 59 holes were drilled to a depth of 20 feet (6 m) and another 38 holes were drilled to 30 feet (9 m). Instead of using a multi-step process of drilling, tripping out of the hole, and then casing, the Super Jaws bits allowed for simultaneously drilling and casing in one step. Super Jaws makes this possible due to its unique wing design that retracts back into the guide body for extraction of all tooling while leaving the casing in place. A further challenge with drilling was with the confined site at the base of the previous wall that required a 1/2″ (12.7 mm) tolerance and little room for error. But this was no challenge for Numa's products with Fattorusso commenting, "The Patriot Hammer and Super Jaws bit drilled flawlessly straight holes allowing us to avoid delays caused by making corrections along the way. We simply were able to drill faster with Numa."