Thompson, CT USA
Numa, a leading designer and manufacturer of down hole hammers and bits, has recently announced the introduction of a shrouded drilling package that provides all of the components for more efficient drilling in the construction and utility industries.
Numa's shrouded drilling package contains everything a contractor needs to conduct drilling in a variety of formations including a Numa down hole hammer, down hole bit, over the hammer shroud, shock sub, side inlet swivel and 15 or 45-gallon (57 or 170 liter) lubricator. The self-contained unit helps avoid much of the costly down time and hassle typically spent on locating and purchasing various products as well as the time to assemble them. More time is now spent on drilling, resulting in lower overall cost and higher profits. All components are pre-assembled by Numa and shipped ready to drill. Once at the job site, the contractor has almost everything he needs to connect to their rig and start drilling.
Upon the announcement, Numa's President Ralph Leonard stated, "Numa's introduction of the shrouded drilling package provides contractors with a single source for all their rock drilling needs. One phone call is all it takes to have a pre-assembled drilling solution delivered directly to the work site."
An additional benefit of Numa's shrouded drilling package is improved drilling performance. The over the hammer shroud actually increases the ability of the DTH hammer to clean the hole as cuttings are flushed up the annulus at a higher velocity resulting in faster drilling speed. In addition, bit life is extended as more time is spent drilling new rock instead of re-drilling old cuttings.
All components of the shrouded drilling packages are assembled under the same strict guidelines that Numa has built its reputation on. Furthermore, contractors are assured they will be using Numa's legendary hammers and bits, which have a long track record of providing the perfect combination of fast penetration rates and long life to yield cost effective results. Shrouded drilling packages are available in a wide range of sizes to accommodate many needs but are perfectly suited for construction and utility applications that require drilling holes from 12-1/4″ to 43″ (311 to 1092 mm) in diameter.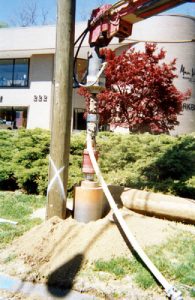 In addition to the top quality products, Numa offers a service to commission a shrouded drilling package. Numa field technicians can go on-site at the outset of a contractor's first project to train drillers on its proper use. This level of personal service will not only ensure that customers are completely comfortable with their new drilling product but also provides Numa valuable interaction with drillers around the world. It is this type of service and support that has allowed Numa to design and build products that drillers require.
Numa is a major manufacturer of down hole hammers and bits for the international drilling industry. The company designs and builds down hole hammers and bits for drilling vertical and horizontal holes 3-1/2 to 43 inches (89 – 1092 mm) in diameter. The company is known worldwide for their Patriot hammer line, which provides an unmatched combination of fast penetration rates and long hammer life.