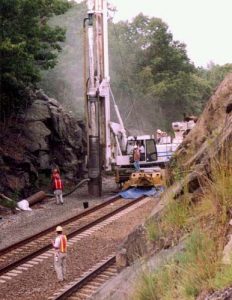 Between 1912 and 1934 the rail lines from Washington D.C. and New Haven, Connecticut, along what is now Amtrak's northeast corridor, were converted to supply power to electric trains. Although the project was in the planning stage for decades, the 157-mile (253 km) section of track between New Haven and Boston, Massachusetts had never been converted to electric service.
In 1996, to allow for planned high speed rail service along the U.S. eastern coast, the United States Congress passed a measure to complete electrification on this route. The new service will allow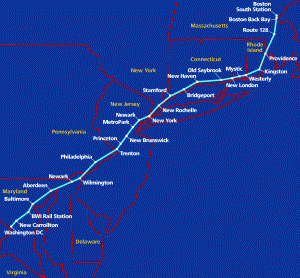 trains to reach speeds up to 150 miles per hour (242 kph), reducing travel time from Boston to New York from 4-1/2 hours to just 3 hours, making rail travel competitive with that by automobile or airplane.
To provide electrical service to the high-speed trains, it's necessary to install 13,000 drilled piles to support an overhead catenary electrical system. This system requires 31-foot (9.4 m) high poles to be spaced 75-220 feet (23-67 m) apart.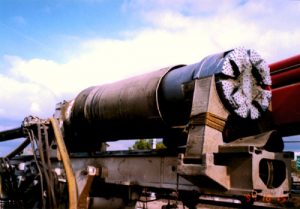 Numa supplied sixteen 240 down hole hammers for the 24″ and 34″ (610 and 864 mm) drilled piles to a consortium of companies working jointly on the project. Because ground conditions vary along the East Coast, both conventional and overburden bits are being used to simultaneously drill and case holes to depths of 8 to 24 feet (2.4 to 7.3 m).
Because it's impossible to stop or reroute rail traffic, drilling on this project is being conducted next to live tracks by drill trains made up of several flatbed cars. It is not uncommon for Amtrak trains to pass at 80 miles per hour (129 kph), literally within an arm's length, while drilling is under way.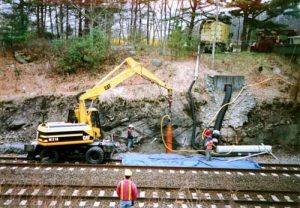 The drill trains specially designed for this project carry everything needed for drilling, including a Soilmec R-312 drill rig, two 1300 cfm (613 l/sec) compressors, a support crane, hammers and bits, casing and water storage. Also drilling on the project are CAT 318 & 322 pole drills, D40K, DM25 and Klemm drill rigs.