Doubil Inc. of Mount Brydges, Ontario Canada has announced the successful completion of a cased pump column installation at a major mine in Sudbury, Ontario. The project involved drilling a multi-sized hole to almost 4000 feet (1220 m) and cementing casing in place. Doubil selected down hole hammer & bit manufacturer, Numa, to provide the specialized drilling equipment required for the project.
In order to intersect the target deep below the surface, drilling accuracy was extremely critical and required a two-stage drilling process involving a targeted pilot hole and a hole opening phase. Utilizing three (3) 1050/350 compressor, the initial portion of the project began with a Numa Challenger 120 hammer and 12″ (305 mm) bit drilling a pilot hole . However, during this phase a long abandoned ore pass was found to be in close proximity. The planned program was revised to directionally drill around the ore pass using a Challenger 80 hammer with 9″ (229 mm) bits and other directional tools. The directional portion was subsequently 'opened' using a Numa Challenger 120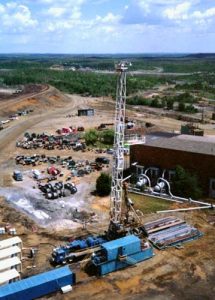 hammer and 8″ x 12″ (203 x 305 mm) hole openers. The last 238 feet (72 m) of the pilot hole was completed with a Challenger 100 hammer and 11″ (279 mm) bit to a final depth of 3958 feet (1207 m).
The second stage utilized a Champion 180 hammer and 12″ x 20″ (305 x 508 mm) series hole openers specially manufactured by Numa. The proprietary design of the hole openers in conjunction with the predrilled pilot hole allowed the cuttings to be exhausted down the hole to the intersected drift where they could be excavated from the drill site. Utilizing this method eliminated the need for additional air volume to clean the hole and reduced cost for the project. The two-stage process worked very efficiently and the project was successfully completed.