The Port of Dampier in Western Australia, one of the largest ports in the world that exports iron ore, is undergoing expansion in order to better handle the increasing shipping traffic at the port. Clough Sandwell Joint Venture was awarded the US $107 (A $170) million upgrade project by Hamersley Iron Pty. Ltd.
In existence since the mid 1960's, the port required additional facilities for loading bulk iron ore carriers. Part of the project called for construction of three mooring dolphins that were to be anchored into bedrock. The regional rock formations include limestone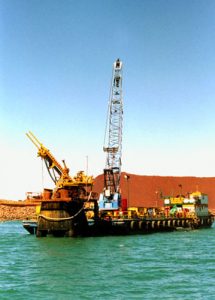 and granophyre, a tough and abrasive igneous volcanic rock associated with granite. Prior experience drilling in granophyre indicated that DTH hammer drilling would be the most efficient method to socket the pin piles into the rock.
Drilling & Grouting Services Pty Ltd who are specialists in offshore marine foundation work carried out the drilling and grouting work on the project. To complete the job, they consulted John Holland Construction & Engineering Pty. Ltd. who rented them a Wirth B5 rig with a tooling set-up for reverse circulation drilling and a Numa Champion RC300 reverse circulation down hole hammer.
The three mooring dolphins were to be supported by four raked piles, two at 1:3, and two at 1:5. This required the four piles to be predriven through a prefabricated template structure down into the seabed using a floating barge. With the Wirth B5 rig secured on top of a pile, a 43.3 inch (1100 mm) conventional RCD rotary bottom hole assembly was used to drill below the pile until hard rock was reached. This section of the socket accommodated the 37.4 inch (950 mm) section of a two – diameter pin pile.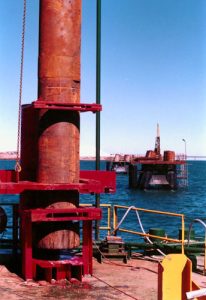 Numa's Champion RC300 down hole hammer was then used to drill a 30 inch (762 mm) rock socket to accept a 23.6 inch (600 mm) section of the two-diameter pin pile. This was facilitated by using a flanged casing and a rotating stabilizer to act as a centralizer for the DTH drilling. Once drilling was completed, the tooling was tripped out and the pin pile was lowered into the socket. This was completed by using old oil field pipe as the central grout pipe and a 7-5/8 API crossover sub. A Wirth flanged connection was attached to the central grout pipe and the pin pile was grouted in place once the rig was disconnected from the pipe at deck level.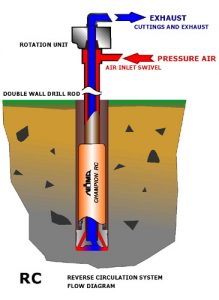 This phase of the Dampier Port upgrade project including socket drilling, pin pile insertion and grouting was completed in just two months. Most of the time saved can be attributed to the use of the Numa Champion RC300 reverse circulation down hole hammer and experienced operating and maintenance staff who were familiar with the setup from a previous project. The Dampier Port project is the second off shore project in NW Australia that utilized the Champion RC300 with good results.