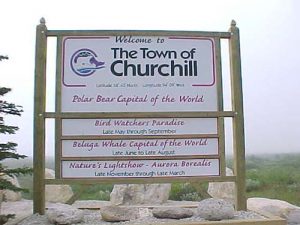 Located on the banks of the Hudson Bay, three things usually come to mind when you think of Churchill, Canada; polar bears, beluga whales and frigid weather. While these three characteristics of Churchill are accurate, there's also another very important aspect of this northern town – their shipping port. The town of Churchill was founded in 1700 and has been a vital shipping port for importing and exporting goods into and out of Canada. Today it is used for shipping supplies such as snowmobiles, fuels, food and building products to towns and mining operations north on the Hudson Bay. Located in a demanding sub-arctic environment where the water temperature barely rise above freezing, tides change in excess of 15 feet (4.6 m) and storms pound the wharf, the old wooden pier used on a daily basis needed to be replaced. As part of a 25 million-dollar contract, Pierre Gagne Construction of Thunder Bay, Canada had the difficult task of installing steel piles for a new dock.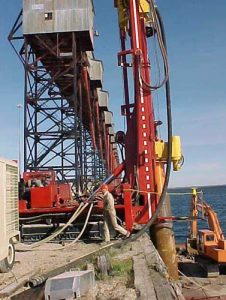 Construction of the new dock required rock sockets to be drilled to install 24″ (610 mm) steel H beams cast in place to support a HZ sheet piling wall. The entire project called for 140 piles to be drilled along the existing wooden dock that will be demolished when the new one is completed. For all the drilling, Pierre Gagne Construction utilized a Foremost DR40 drill rig outfitted with a Numa Champion RC300 reverse circulation hammer and 34″ (864 mm) reverse circulation bits. Keeping tight control over any environmental impact on the Hudson Bay was of great concern on this project.
With the large number of polar bears, beluga whales and other marine life, there could not be any drilling fluids or cuttings deposited back into the bay. Numa's reverse circulation products offered the ability for all drilling by-products to be collected at the point of drilling and exhausted up
through the hammer and drill string to be safely collected in a cement truck at the surface. The cement truck would then be taken off-site where the drilling materials could be properly disposed.
Drilling was conducted off the old wooden dock which had existing grain elevators along side and overhead. Between the old dock, drill rig, drilling supplies and three tag along 900/350 (425 l/sec / 24 bar) compressors the work area was very confined and barely manageable. The rig would, quite literally, extend out several feet over the water to drill the piles with a 4° rake. Having reverse circulation equipment was a further benefit because it gave the ability to offset the weight of the water on the top of the hammer as it was circulating from the bit face.
The ground conditions below the sea floor consisted of several types of formations and required drilling equipment that could handle diverse conditions. Pierre Gagne choose Numa's RC300 hammer and bits because of their reliability and overall reputation) for handling difficult conditions. To reach the drilling targets on the sea floor required the Champion RC300 hammer and 34″ (864 mm) bit to travel through 40 to 50 feet (12 – 15 m) of seawater to the Hudson Bay floor. Armed with 3850 cfm / 350 psi (1817 l/sec), the hammer and bit operated at 160 psi (11 bar) and efficiently drilled through diverse formations comprised of 2 feet (0.6 m) of seabed sediment, 6 feet (1.8 m) of sand, 2 to 10 feet (0.6 – 3 m) of clay and 5 to 8 feet (1.5 – 2.4 m) of gravel and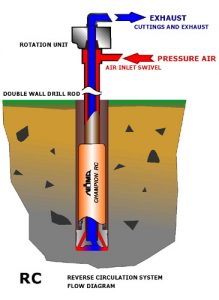 boulders. The typical depth of each hole drilled was from 18 to 28 feet (5.5 – 8.5 m). Once a rock socket was completed, 24″ (610 mm) H beams would be cast in place to support a HZ sheet piling wall for the new dock.
Churchill, Canada is a very remote location with no highways or roads leading into it meaning its livelihood relies directly on its shipping port. However, the people who live in the town are very in tune with their environment and protecting it is very important to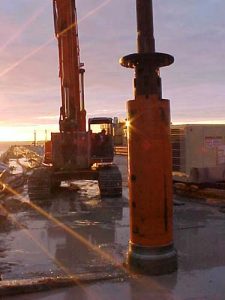 them. Although they realized that a new dock was needed for the town to continue as a vital shipping port, they didn't want to see their marine environment damaged. Numa's RC300 hammer and reverse circulation bits were just what was needed. Numa's RC products provided the necessary muscle to complete the new dock while keeping the environment safe. Thanks to Pierre Gagne, Foremost and Numa, the people of Churchill have a new long lasting and durable dock to continue as one of Canada's most important shipping ports.