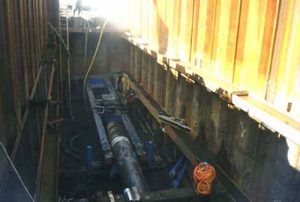 Murphy International recently completed the installation of a new gas pipeline running through Dublin, Ireland. Faced with a challenging task of tunnelling underneath railways and highways through very hard rock, Murphy subcontracted Finnish tunneling contractor, Lannen Alituspalvelu Oy, to conduct the horizontal drilling of four pipeline crossings.
Each of the four pipeline crossings required 24″ (610 mm) holes to be drillied horizontally for the installation of steel sleeve pipes. Once in place, 20″ (508 mm) diameter steel pipes used for transporting gas were inserted inside the sleeves. Conventional tunnelling methods could not be used because the formation in the area consisted of clay, gravel, schist to hard limestone, cobbles and large boulders. To further complicate matters, all drilling was conducted within Dublin's very congested city limits.
To complete this demanding task, Lannen utilized one of their self-manufactured auger drilling machines to power a Numa 125 down hole hole hammer coupled with Numa's Impact Ring Bit System®. The Impact Ring Bit System® is specially engineered for tunneling applications and consists of a unique two-piece design incorporating a center and ring bit combination. The center bit was attached directly to the Numa 125 hammer while the ring bit was welded to the sleeve pipe being installed. The hammer and center bit were then inserted through the sleeve pipe to align with the ring bit affixed to the end of the sleeve. Married together the two bits work in unison to simultaneously install the pipe sleeve while drilling. Once the sleeve was in place, the steel live gas pipe could be installed inside of it. Drilling commenced with the hammer operating at 10-12 rpm with an air supply of 1300 cfm/150 psi (614 l/sec / 10.2 bar). With the rig providing 12,000 ft/lbs. (1,659 KGM) of torque, Lannen was able to complete the drilling and installation of 20 foot (6 m) sections of pipe in a 1/2 hour. Each pipe crossing ranged in length from 131 – 262 feet (40 – 80 m).
By employing the Numa Impact Ring Bit System® with the Numa 125 hammer, Lannen was able to efficiently tunnel through very difficult ground conditions. Without this equipment they would not have been able to install the pipe sleeves on-line and on-grade without disturbing any streets, railroad lines and houses at the surface.
Lannen Alituspalvelu Oy owner Pekka Vepsa stated, "In Finland hard rock drilling is a well established industry and our market is extremely competitive. We needed a robust horizontal hard rock drilling system that could deal with any conditions while having effective flushing for good performance. We turned to Numa and their Impact Ring Bit System®, which indeed is offering us all that. Today we continuously have two rigs in the field handling what used to be difficult formations."