An innovative style of drilling has resulted in a staggering increase in production of utility pole installations in Mexico. Through the efforts of TEI Rock Drills of Montrose, Colorado and Numa of Thompson, Connecticut a down hole drilling contractor has revolutionized the Mexican rock drilling industry.
Over the years in Mexico, it has been customary practice to drill large diameter utility holes by drilling a series of small holes and loading them with explosives. Once exploded, the loose material would be removed by pick and shovel. This method proved to be time consuming and very dangerous. To drill a 17-1/2 inch (445mm) diameter hole five feet (1.5m) deep would typically take an entire day.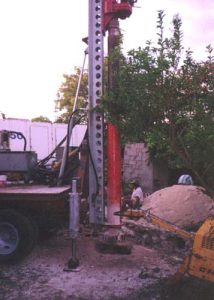 TEI Rock Drills was able to supply a Mexican contractor with a rig and down hole hammer that would enable the completion of a 17-1/2 inch (445mm) utility pole socket in a single pass. The TEI drill rig was mounted on a 1985 Chevrolet one ton pick up truck and a remote air compressor was used to provide 1200 CFM at 125 PSI (519 l/sec at 8.6 bar).
Using the Numa 120 down hole hammer with a 17-1/2 inch (445mm) bit, the new drilling style efficiently drilled five feet (1.5m) in ten minutes. It was now possible to complete fifteen to
twenty-five holes in the time it used to take to finish one.
With several local political officials looking on, the consensus was that the rock would be far too hard for the hammer to be effective. Upon witnessing the results of the new rig and down hole hammer, all spectators acknowledged that this new drilling method provided the most efficient, cost effective means of drilling utility pole holes or any other rock drilling application.