Submitted by Keith Brownjohn, John Holland Construction & Engineering Pty. Ltd.
On a 40 million dollar liquefied petroleum gas jetty project, there is no place for down time or ineffective equipment. Such was the case offshore on the Burrup Peninsula in Australia. John Holland Construction & Engineering was required to drill 30″ (762 mm) pile sockets 18.4° off vertical through difficult formations of sand, clay, coral, extremely hard cobbles of rhyodacite and heavily fractured rhyodacite below. Normally, you have a drill that can do one of the formations but not the other. We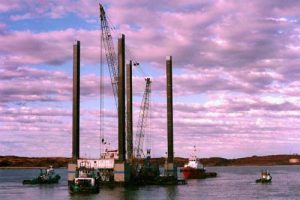 were looking for a method of drilling that could handle all of these formations while at the same time, would meet our environmental requirements.
To undertake this task, we utilized the Numa Champion RC300, one of the world's largest reverse circulation DTH hammers, fitted with a Numa 30″ (762mm) bit. This single hammer design allowed efficient penetration in rock formations containing strata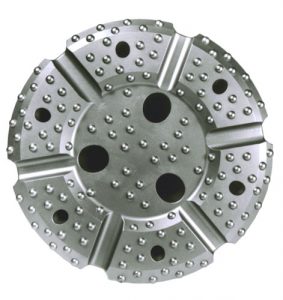 of highly variable hardness and competence. Designed for pile sockets and able to drill efficiently against high heads of water, made the Numa RC300 DTH hammer the right selection for this marine application.
With the unstable, fractured ground conditions, any conventional hammer that displaces cuttings up the annulus was expected to cause hole collapse. The RC300's reverse circulation method allowed the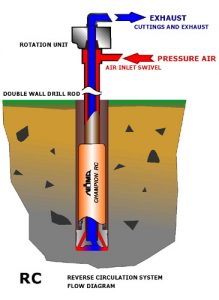 cuttings to be ejected up the center of the hammer eliminating the incidence of this problem. In addition, the small 1″ (25mm) annulus between the hole wall and the hammer reduced the problem of unkeyed boulders from falling against the tool and becoming jammed.
In the Burrup Peninsula, environmental safety is a top concern. The Numa reverse circulation hammer required no foam to clean the hole, used a completely biodegradable lubricant and, most importantly, could bring all the cuttings back up the center of the hammer.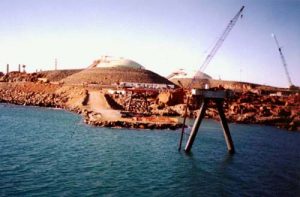 To effectively drill these pile sockets to the depth required was a very difficult engineering feat, but John Holland Construction & Engineering successfully accomplished it using the Numa Champion RC300 reverse circulation DTH Hammer.