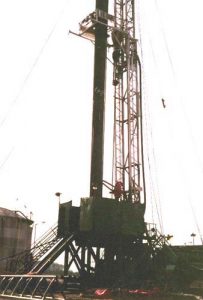 Evergreen Resources UK Limited conducted a series of geological tests near Ellesmere Port in the United Kingdom that determined a deposit of methane gas was located 4,700 feet (1,434 m) below the surface. In order to tap into the valuable deposit, they hired a drilling contractor to begin an exploration drilling program.
Initial drilling strategy for the project utilized rotary tricone principles to drill through sedimentary rock and coal measures to reach the gas. As the drilling reached 3,800 feet (1,159 m) penetration rates slowed dramatically as increasingly more difficult formations were encountered.
The new contractor, British Drilling & Freezing, implemented a new drilling program to penetrate the hard formations. Equipped with an Ideco Rambler rig, a Numa Champion 40 down hole hammer and a 4-1/2″ (114 mm) bit, the new contractor went back in the previously drilled hole. Supplied by two (2) Atlas Copco 1300CFM/250PSI (614 l/sec/17 bar) compressors and a booster, the Champion 40 was operated at 800 psi (54.4 bar) and successfully reached the gas reservoir at a total depth of 4,700 feet (1,434 m). Throughout the drilling, foam was used in order to prevent the fractures from being plugged which insured the collection of gas from all cavities along the hole wall.
Once again a Numa Champion hammer came through demonstrating it could get the job done successfully despite difficult ground conditions, high operating pressures and a 4,700 ft. (1,434 m) depth.