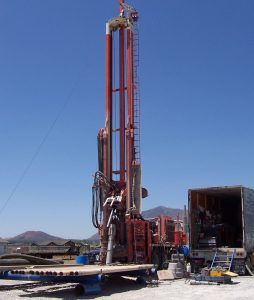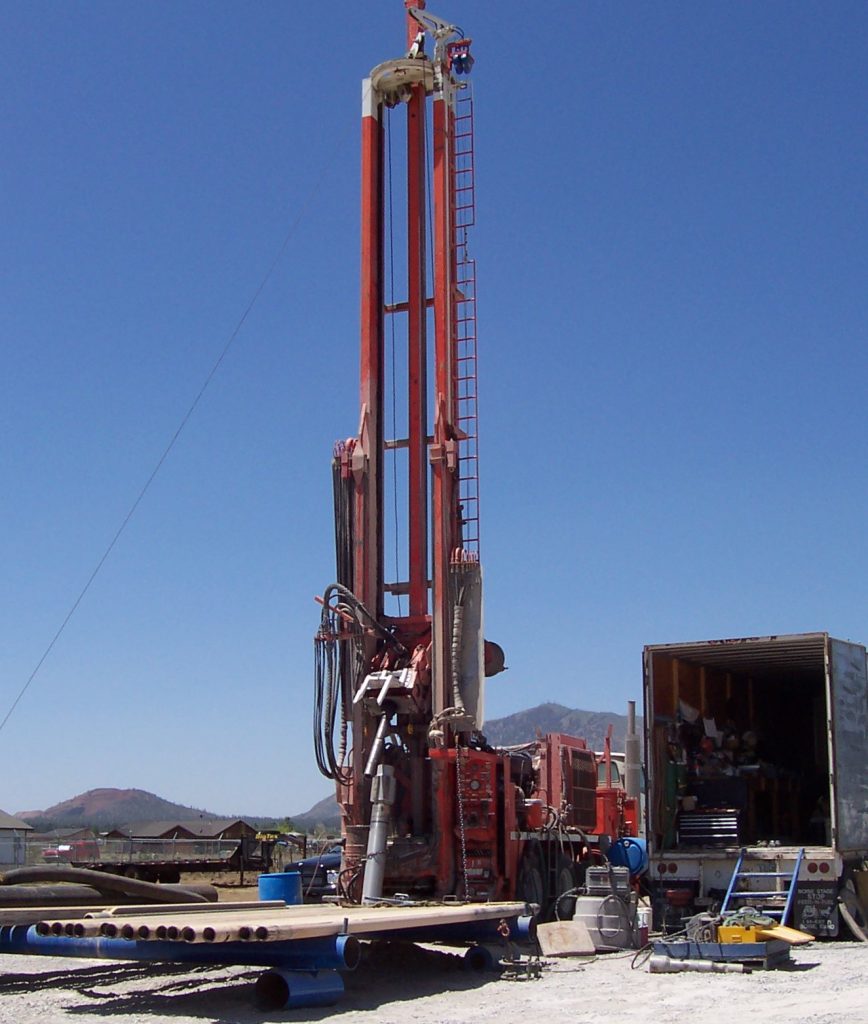 ADT Drilling was awarded a contract to drill four (4) Municipal Water Wells to a depth of 2,400 feet (732 meters) in Flagstaff, Arizona USA. The project required setting 16" (406 mm) OD casing down to a depth of 500' (152 m) and 12 ¾" (324 mm) OD Casing to the final required depth of 2,400' (732 m). All drilling was conducted with a Foremost DR24 rig featuring a lower drive unit to allow for casing to be advanced.
The conditions were challenging with limestone rock formations consisting of hundreds of fractured zones and large layers of densely compressed caliche sand. Typically, you can drill an open hole once casing is set into bedrock, but the ground formations would not allow for an un-cased, open well to be drilled. The first hole was drilled using a down-the-hole hammer and conventional drill bit to drill inside the casing while the lower drive unit rotated to try to advance the casing separately. The formation proved to be formidable for this set-up with the cutting rings welded to the first section of casing consistently wearing out after only 350' to 400 feet (107 – 122 m) of drilling. Each time the cutting ring needed to be replaced it required the casing to be pulled out of the ground in 20 foot (6 m) sections, cut off, and then laid down so the cutting ring could be replaced. Once replaced, the casing would be picked up, welded back together in 20' (6 m) lengths, and sent back down the well. This process was repeated every 350 to 400 feet (107 – 122 m) as each cutting ring wore out. When all was said and done, the first well took 3 ½ months to complete.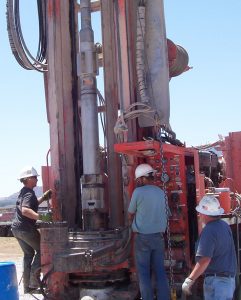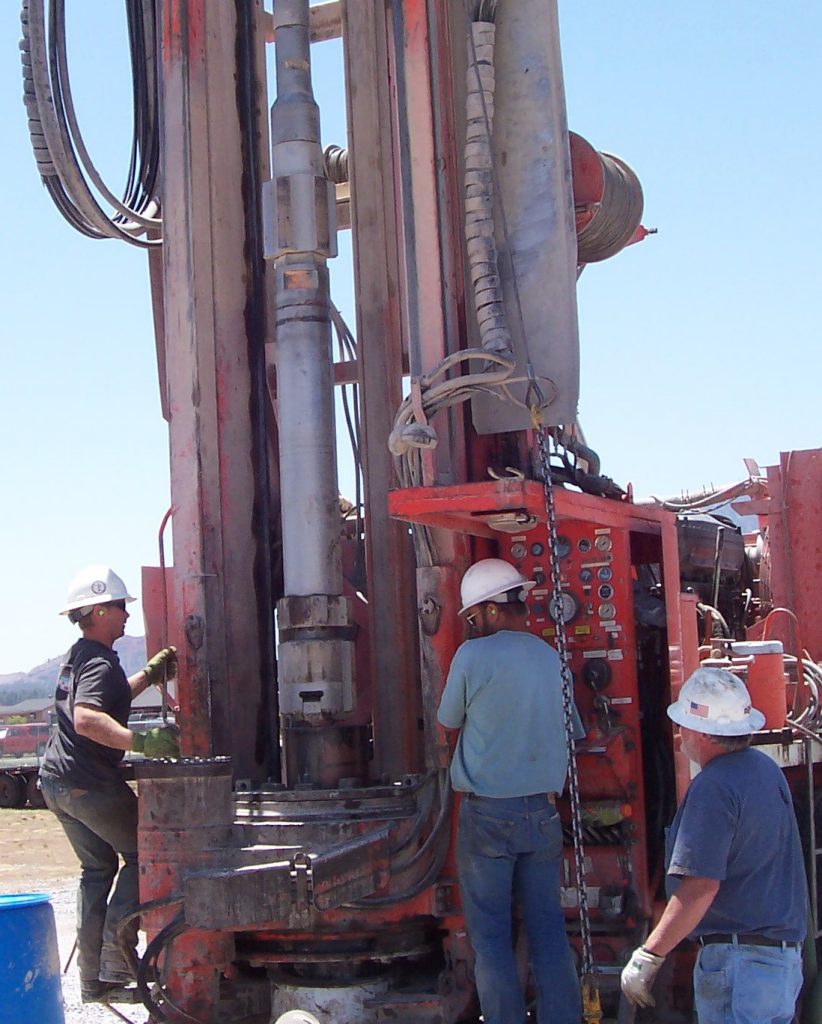 ADT Drilling President and Owner Jay Click knew he had to find a better way so he reached out to the drilling experts at Numa to see if there was a better option for the three (3) remaining wells. After speaking with Numa Vice President of Sales, Neal Kuszewski, it was decided that the next well would be drilled utilizing Numa's Super Jaws Overburden Bits. The Super Jaws Bit utilizes wings that extend out to drill a hole large enough for the casing to be simultaneously installed while drilling. Upon completion, the wings retract inside the casing and all tooling is brought back to the surface while leaving the casing in place. No expensive tools are left down the hole and no starter casing teeth are required.
Numa Vice President of Sales, Neal Kuszewski stated, "With some overburden drilling systems you can only drill through the overburden material down to the bedrock and then switch to a conventional drill bit. Super Jaws was used to drill through both the overburden AND bedrock, so the casing could simply follow the hole that was already drilled by the Super Jaws Bit. The benefit to ADT was they did not have to continue pull out all of the casing they spent so much time installing just to change the worn out cutting ring. Using Super Jaws saved them considerable time and money."
On the second well, the Foremost DR24 rig outfitted with a 900/350 on-board compressor, two 1150/350 Auxiliary Compressors, and one Air Tech 600 PSI Booster set out to drill with the Numa T365ND Super Jaws Bit and Patriot 125 Hammer. Foam and water were injected to aid in hole cleaning and boosted the pressure starting at 400 PSI (27.6 bar), finishing at 550 PSI (37.9 Bar). On average, it took less than 20 minutes to drill a 20' (6 m) long section, drilling at 225 PSI (15.5 Bar) across the hammer. The T365ND Super Jaws set down the casing to 500' (152 m) in just a few days, saving significant time over the previous method. The Numa T302ND Super JawsBit and N100 hammer were then used install the 12 ¾" OD x .312" wall casing down to the required depth of 2,400' (732 m).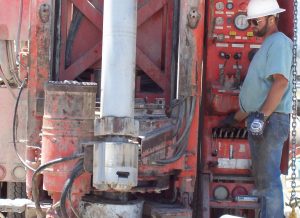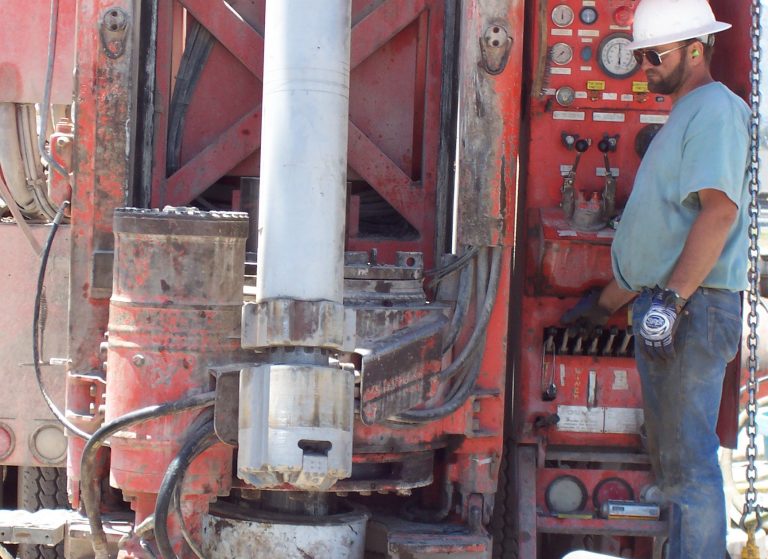 The result of the new Super Jaws method was outstanding with the second hole taking less than a month to complete. This represented a 75% savings in time compared to the first well that took 3 ½ months to finish. The Super Jaws method was able to save ADT Drilling a massive amount of time and money and allowed them to complete the four (4) wells on time.
At the completion of the project, Neal commented, "We were very pleased with how Numa's products performed in this application. Any contractor will tell you that once they get the casing in the ground, they never want to take it back out of the hole. As demonstrated in Flagstaff, the combination of Numa Super Jaws and the Foremost DR24 helps drill wells in less time and at lower overall cost. It's a winning combination!"