Girard Coal Company, one of the leading producers of anthracite coal, has used many different down hole hammers over the years and is very conscious of how hammer performance affects their bottom line. To date, they have found the Numa Champion 60 HFE hammer to produce the most cost-effective drilling available on the market.
Girard Coal runs a highly productive open pit coal mine in Girardville, PA where they produce approximately 250,000 tons of anthracite coal per year to be used for home heating, the production of steel and in water filtration and purification. With this kind of volume, they rely heavily on selecting the right down hole hammers in order to conduct blast hole drilling in a fast and efficient manner. A few years ago, the company turned to
Numa and their industry leading down hole hammers and bits. Numa Regional Manager, Ted Foust, was glad to help and demonstrated Numa's Champion 60 HFE hammer with a 6-1/2 inch (165 mm) bit which was perfectly suited for the difficult conditions found in the open pit mine.
Inherent to the Champion 60HFE is the combination of durability and speed. The design is capable of drilling holes 6″ to 8-1/2″ (152-216 mm) in diameter and has an overall weight of just 243 lbs. (209 kg). The hammer boasts the ability to efficiently operate at pressures as low as 150 psi (10.2 bar) while also being able to deliver an impressive 1525 blows per minute at 350 psi (23.8 bar). Back pressure poses no problems as the C60 HFE drills efficiently against high heads of water. Typical horizontal and vertical applications include blast holes, water wells, caissons, tie-backs, exploration drilling, pile/rock sockets, tunneling under roads and other jobs where drilling through rock is required.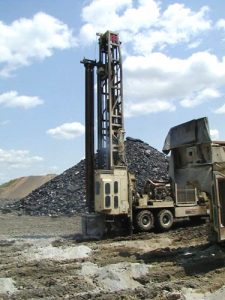 Girard utilizes two drill rigs that are supplied with 900/350 (425 l/sec / 23.8 bar) and 1050/350 (496 l/sec / 23.8 bar) compressors to drill 6-1/2 inch (165 mm) blast holes to a depth between 20 and 120 feet (6 – 37m). In most cases, average hole depths are from 60 to 70 feet (18 – 21 m) and are drilled in a hard sandstone formation indigenous to the region. At the Continental Mine, Girard has overwhelmingly benefited from Numa's world-class DTH products as they have easily outperformed any competitor products they had used in the past. Over the years with Girard, the Champion hammers have averaged about 80,000 feet (24,400 m) of drilling with limited replacement parts before being retired. The life of Numa's bits has been equally impressive, lasting upwards of 2000 feet (610 m) before being replaced. Unlike with many competitor products, the Numa hammers and bits have proved to champion Girard's challenging conditions.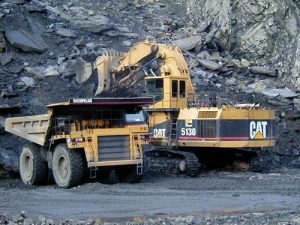 Numa's products continue to produce reliable, cost effective results that positively effect Girard's bottom line. In addition to these unbeatable products, Ted Foust provides outstanding technical support and a level of personal service that is unheard of today in the drilling industry. Girard Coal Company continues to use Numa's products due to two simple reasons, top-flight performance and service. Look to Numa for results.