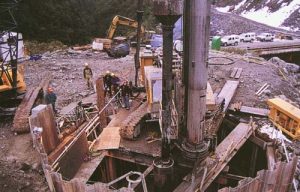 At Arthur's Pass in the Southern Alps of New Zealand, McConnell Smith Ltd. conducted the largest hammer drilling project in the Southern Hemisphere. Utilizing the Numa Champion 240 down hole hammer and 30″ (762mm) Super Jaws® T700 Under-Reaming Bit, manufactured under license from TONE Corporation, the company is constructing the SH73 Otira Viaduct to eliminate a dangerous section of the main highway between Christchurch to the east and Hokatika to the west.
The project involves the construction of a four (4) span cantilever bridge extending about 1440 feet (440m) long with a deck on a 12% grade and piers about 131 feet (40m) high. The three main piers are founded on excavated cylinders that are 13 feet (4m) diameter and 98 feet (30m) in depth. The ground conditions in this challenging, mountainous region consist of avalanche deposits of angular, very dense,
greywacke cobbles, gravel and boulders varying in size up to 13 feet (4m). The formation adjacent to the Otira River is extremely permeable and the water level is 20 feet (6m) below ground level.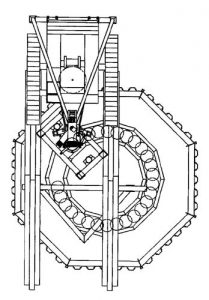 Numa down hole hammers and bits are being employed to excavate the cylinders in which thirty 30″ (762mm) overlapping holes are drilled and filled with concrete to form a secant pile ring. The cylinders are then excavated by chisel and grab.
By carrying down 30″ (762mm) O.D. casing that enables the hole to stay open, the Numa Champion 240 hammer and Super Jaws® T700 Under-Reaming Bit combination has been successfully drilling through the
unconsolidated, hard and abrasive ground conditions. Penetration rates in this difficult environment is averaging between 16 to 26 ft/hour (5 – 8 m/hr).
The construction of the Otira Viaduct is part of a NZ$25 million dollar state highway project by Transit New Zealand on the west coast of New Zealand and is scheduled for completion in 1999.