Water related problems on construction projects in Arizona usually do not come into play very often as the climate in this part of the United States is extremely dry. However, although there is not much rain or standing water in this area, there are a number of dried out riverbeds and lakes that can cause instability if not carefully addressed during construction.
The Arizona Diamondbacks became very familiar with this situation during the construction of the players' parking lot at the Bank One Ballpark in Phoenix. Unknown to all parties involved, the parking lot was built on top of a dried out riverbed. This riverbed consisted of cobbles that were unable to sufficiently support the pressure of the structure above it. As a result, the parking lot began to sink.
O'Brian Concrete Pumping was contracted to raise the parking lot back up to its original height and to secure the structure in place. O'Brian knew they must reinforce the parking lot by pumping concrete underneath it and that it had to be done fast. O'Brian consulted TEI Rock Drills of Montrose, CO who suggested drilling with a Numa Champion 35 down hole hammer off a Bobcat 835 with TEI's HCM 528 drilling attachment. This method would provide an inexpensive and quick means to drill the holes while insuring the safety of other nearby structures – like the brand new multi million-dollar baseball park.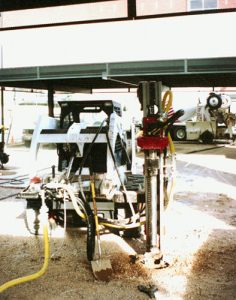 Numa's Champion 35 hammer is capable of drilling holes from 3-1/2″ to 4″ (89 – 102 mm) in diameter for vertical and horizontal applications. Designed for long life and fast penetration rates in hard rock conditions, the hammer is perfectly suited for completing tie backs, rock sockets, water wells, exploration drilling, blast holes or any other rock drilling project.
The project required holes to be drilled 20 to 30 feet (6.1 – 9.2 m) deep in order to reach the area where concrete could be pumped under the structure to raise it up and secure it in place. All drilling was conducted off a Bobcat/TEI rig that supplied 250 cfm (118 l/sec) and 150 psi (10.2 bar) of air to a Numa Champion 35 down hole hammer. After each 3-1/2″ (89 mm) diameter hole was completed, casing was installed and the concrete was pumped down to raise up the lot. The
Champion 35 hammer more than lived up to its reputation as it was able to successfully drill over 50 holes within several days, which enabled O'Brian to successfully complete the project in plenty of time before the new baseball season began.
Although water doesn't provide much of an obstacle in the Arizona desert, there are many areas that consist of unstable ground condition. So whenever this type of need arises, O'Brian Concrete Pumping and TEI will be there to help with the right people, drilling techniques and Numa products to get the job done. Look to Numa for results.