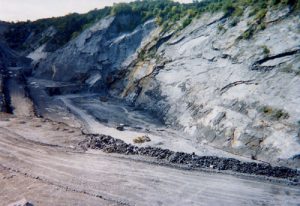 Drill Management Inc. has been drilling in Pennsylvania quarries for the past 6 years and understands the critical nature of having hammers and bits that drill quickly and hold up hole after hole. That's why they use Numa down hole hammers and bits.
Drill Management uses Numa's newest hammer, the Patriot® 60 with 6-1/2 inch (165 mm) concave bits to drill in limestone formations throughout Pennsylvania's difficult landscape. One of the benefits of the new Patriot hammer has been its incredible penetration rate. Its compact design allows for a transfer of drilling energy to the bit quickly and efficiently to promote faster drilling speeds and allows Drill Management to complete more holes in less time.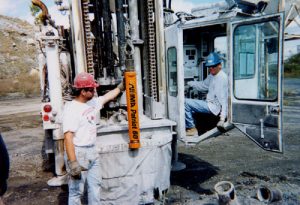 However, the Patriot® is not only faster than competitor's hammers but one that stands up to demanding drilling environments. It is the ultimate goal of the hammer to provide the industry with a complete combination of speed and life. The Patriot 60, with only 8 major parts, is a simplified hammer design that was accomplished by eliminating several internal components. Less overall parts make the Patriot 60 easier to maintain than competitor hammers, which means more time can be spent drilling. Numa engineers also designed the hammer so the feed tube assembly attaches directly to the backhead of the hammer to provide outstanding alignment of all hammer parts. This enhancement results in longer hammer life and improved overall hammer performance.
Drill Management, which drills with a Driltech DR40K rig and 900/350 compressor, has been experiencing tremendously long life with their Patriot 60 hammer. To date, they have drilled in excess of 30,000 feet (9,150 m) without replacing any parts or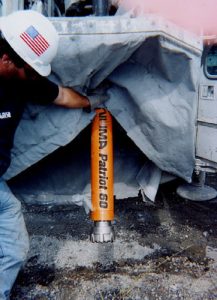 experiencing any decrease in performance. You just can't get that from other hammers. In addition, since switching to the Patriot they have seen a noticeable reduction in drilling costs. With a more efficient design, the Patriot 60 is less costly to run. The hammer is very efficient and requires less air volume to operate at peak production.
Another key feature of the Patriot 60 is the ability to handle difficult back pressure drilling conditions. When faced with high heads of water, the Patriot will continue drilling efficiently where other hammers stop working. This is an extremely important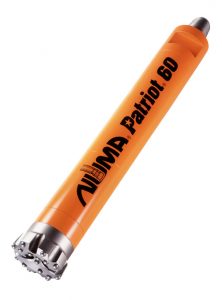 benefit when drilling in water well applications where drilling against large quantities of water is sometimes an obstacle. Fortunately for Drill Management this is not an issue for the Patriot 60 as it continues drilling in this environment with no performance issues.
The Patriot 60 has enabled Drill Management to significantly increase their drilling production while at the same time reducing their overall cost. It is this overall combination of speed and performance that makes the Patriot 60 the best down hole hammer on the market today. Contact Numa today at 800 356-NUMA or +1 860 923-9551 to get a head start on drilling with the best hammer in the business – The Numa Patriot 60.
Get to the bottom of it with Numa.