In order to construct a concrete sound barrier around Interstate 695 (The Baltimore Beltway), JTE Inc. of Lorton, Virginia was required to drill 300 pile holes 24 & 30 inches (610 – 762 mm) in diameter. To accomplish this, a two step drilling procedure was employed using augers and down hole hammers.
The first part of the procedure involved auger drilling a 30″ (762 mm) diameter hole to a depth of 10 – 15 feet (3 – 5 m) or until hitting bedrock. The auger was then pulled out of the hole and casing was put down.
Auger drilling was abandoned because trying to drill through bedrock with an auger has proven to be very labor intensive and costly due to its inability to efficiently fracture rock formations. Typically in these conditions, an auger has a tendency to break down and perform very slowly. To avoid this costly process, JTE contracted Syracuse Exploration Company (SEC), a drilling and consulting firm specializing in drilling bedrock shafts throughout the Eastern United States. The staff out of their Mid-Atlantic office located in Hagerstown, Maryland conducted the beltway project.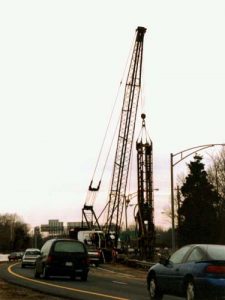 The construction site in Maryland was situated along one of the busiest roadways in America. The continuous traffic, overhead power lines and difficult terrain of the area was very restricting and drastically effected the use of certain construction equipment. To combat this, Syracuse Exploration Company (SEC) utilized a track mounted, hydraulic top-head drive drilling rig equipped with a 900/350 (425 l/sec / 24 bar) compressor. This rig provided the flexible maneuvering needed in the confined area. The bedrock in Maryland consisted of many different formations of rock, ranging from limestone to marble. SEC utilized the Numa Champion 240 down hole hammer with a twenty-four inch (610 mm) bit to efficiently drill through the hard rock.
"We chose Numa not only for the product, but the support that we receive from Numa's staff. As a specialty drilling contractor, we often require special products and support and Numa is always there for us." said Jay DeLine, SEC President and CEO.
With the casing already down the hole, a Numa Champion 240 hammer was lowered to the bedrock and drilled 24″ (610 mm) diameter holes an additional 2 – 5 feet (.61 – 1.5 m). Combining the rig's onboard air with an external 1300/150 (614 l/sec / 10.2 bar) air compressor, the hammer was supplied with 1800 cfm / 150 psi (849 l/sec / 10.2 bar) of air and rotated at 12 rpm. This, coupled with injecting a mist of water to keep the dust down, enabled Syracuse Exploration to efficiently drill through the bedrock at a rate of 5 feet (1.5 m) in 12 minutes producing an average of 10 to 12 completed holes per day.
During another portion of the sound barrier project, Syracuse Exploration developed an innovative style of drilling to tackle demanding drilling conditions. The company designed, engineered and rebuilt an old oil rig mast for use in down hole drilling. The drill mast, which was mobilized by a 60 ton (54 ton,metric) American Crawler Crane, was reconstructed with a special top head drive unit capable of putting out 30,000 foot pounds (4,140 KGM) of torque at a maximum speed of 20 rpm. The drill mast was totally self contained and did not require the crane to operate. As the crane suspended the mast over the borehole, the top head drive was lowered and raised via twin hydraulic cylinders mounted within the drill mast. Power for the top head drive originated from a self contained hydraulic power unit that enabled operation of the drill anywhere within a 100 foot (30.5 meter) radius.
This breakthrough drilling technique involved the crane maneuvering and lowering the mast over each hole to be drilled. Once the mast was secured over the hole, the hammer was lowered down through the installed casing to drill into the bedrock. Supplied with 2000 cfm / 150 psi (944 l/sec / 10.2 bar), the Numa hammer was able to drill 7 feet (2.1 m) in 15 minutes.
"We have definitely chosen a winner with the Champion 240, we have tried others hammers for drilling bedrock shafts, but no one could match the versatility and speed of the Numa down hole hammer." said Jay Deline.
The sound barrier project in Maryland has demonstrated how down hole hammers can produce cost effective results in the construction industry. There are endless drilling applications in the construction market for down hole hammers whether it is shallow, deep, vertical or horizontal. But no matter what the product or conditions, a healthy bottom line always remains the benchmark of success. That is why the ability to reduce labor costs and increase profit margins makes Numa down hole hammers such a big hit in the construction industry.