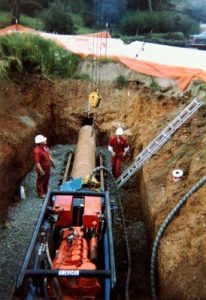 The south spread of the Tuscarora Gas Transmission Project consisted of laying 128.5 miles (207km) of the 229 mile (368km) pipeline from Milan, Oregon to just outside Reno, Nevada. The 20″ (508 mm) diameter pipeline will provide 111 million cubic feet (3.1 million m³) of sweet natural gas each day.
The project deemed that all highways in the path of the pipeline were to be left undisturbed. This required drilling horizontally under highly traveled roadways though hard lava rock, indigenous to the region. Upon encountering Interstate Highway 80, an auger boring machine was utilized to bore through the rock with less than spectacular result. In a two week period, the auger was able to drill only fifteen feet (4.6 m) in addition to being off-line and off-grade.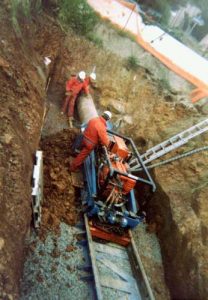 Western Utilities of Cedarville, California offered a solution; drill horizontally under the road with a down hole hammer and two piece ring bit to simultaneously advance the 20″ (508 mm) diameter casing. The Numa 180 down hole hammer was employed to drill and case the horizontal hole. Eight hours later, 180 feet (55 m) of 20″ (508 mm) casing was securely in place under the highway perfectly on-line and on-grade.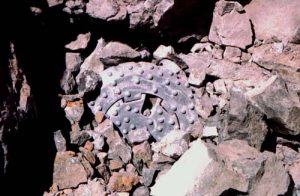 Using two 1300/150 (614 l/sec / 10.2 bar) compressors, eight horizontal bores were drilled with Numa's advanced drilling technology. These bores ranged from 60 to 200 feet (18.5 – 61 m) long and totaled over 1000 feet (305 m) of horizontal boring by the completion of the project. All throughout the drilling, the Numa 180 held 150 PSI (10.2 bar) and recorded penetration rates averaging over 22 feet per hour (6.7 meters per hour).
Just another example of how the Numa's line of hammers and bits are leading the drilling industry.