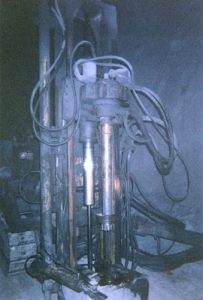 Since the 1970's, an underground mine has operated in western New York State that extracts zinc to be used in medical supplies, rubber and for coating steel. Working one shift every day throughout the year, the mine has now reached a depth of 3800 feet deep (1159 m) and is still expanding.
Typically, all drilling is conducted by a one man drill crew that is dispatched to desolate areas of the mine far away from other workers. The driller must depend on his equipment to stay productive as there is no one to retrieve additional drilling equipment in the event of any failures. A failure in these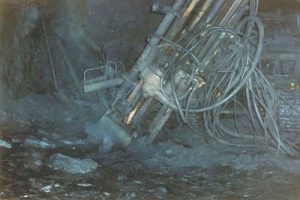 conditions means all drilling stops and costs escalate. Drilling in this environment, far below the surface requires a hammer that will provide reliable results each and every day. This mine chose the dependable Numa Champion 40 down hole hammer to tackle their demanding need.
Space in any mining application is always limited and requires special equipment in order to work most efficiently. The mine in western New York isn't any different. All drilling is conducted by specially designed drill rigs that use 5′ (1.5 m) drill rods. The shorter rods are used because they require only one person to lift and handle them. Weighing just 80 lbs. (36 kg) and only 35-3/4″ (908 mm) in length, the Champion 40 is perfectly suited for drilling in such confined areas as well.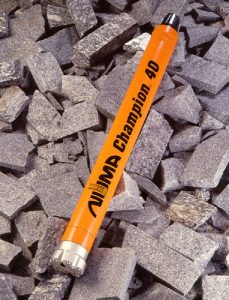 The Numa Champion 40 hammer is being used to drill 4-1/2″ (114 mm) blast hole drilling throughout the mine. Typically, 50 to 60 blast holes are drilled to a depth of 40 to 60 feet (12.2 – 18.3 m) through quaritz diaopsite and calcite and then are detonated and excavated. The Champion 40 has been operating on a 450 CFM – 250 PSI (212 L/SEC – 17 BAR) compressor and has performed flawlessly, providing the mine with the efficient results that drillers around the world have come to expect from Numa.