Companies are constantly looking for ways to cut costs and become more efficient with the services they provide their customers. The utility industry is no stranger to this movement. With utility markets being opened up to widespread competition, utility companies are implementing aggressive plans to insure they best meet customer needs while still holding down costs.
Entergy of Searcy, Arkansas, a division of Arkansas Power and Light, has been at the forefront of this effort by changing the way they conduct utility pole drilling.  They needed the flexibility to drill with an auger or DTH hammer without having to use costly sub-contractors.  To provide in-house  drilling capability, Entergy  purchased a HEM1000 drilling attachment designed and manufactured by TEI of Montrose, CO. The HEM1000 is product designed to attach to pole trucks of which Entergy had a full fleet.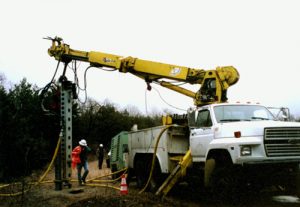 Entergy knew that in order to maximize the projected cost savings, they had to choose a hammer and bit manufacturer that could produce reliable, consistent results. Their decision to purchase Numa products was based upon the overall cost effectiveness of Numa's products and the service the company provides its customers. Numa's hammers and bits have a long track record of providing a combination of fast penetration rates and long life to yield cost effective results.  That is in addition to the unparalleled customer support Numa drilling experts have the reputation of providing before, during and after a drilling project so the project gets done right.
Many of the areas in northern Arkansas where Entergy needed to drill consisted of limestone ground formations. To tackle this environment, Entergy purchased Numa 40 and 100 DTH hammers and associated bits that are perfectly suited for the conditions. The Numa 40 hammers are used to drill holes for anchoring commercial grounding rods. These holes are typically 4″(102 mm) or 6″ (152 mm) in diameter and are drilled to a depth of 20 feet (6 m). The Numa 100 hammers are used for drilling piles for telephone poles. These holes are normally 14″ (356 mm) in diameter and need to be drilled down 7 feet (2 m). All drilling uses 1100 cfm (472 l/sec) and 150 psi (10.2 bar) of air that is supplied by a tag-along compressor.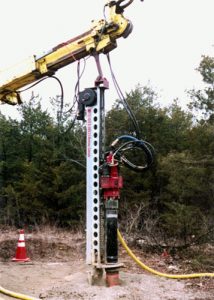 The new set-up provided Entergy with complete control over how each drilling job is conducted and provides the ability to better plan drilling activities at considerably lowered cost. In addition, they can now complete installations considerably faster and they are better prepared to deal with emergencies, which has allowed them to react more quickly to customer needs. In the short few months after Entergy started their own drilling, they have seen tremendous cost cutting, performance-enhancing results. These positive results can be attributed to the great planning and execution by Entergy and the great drilling products manufactured and supported by TEI and Numa.
On your next drilling project, look to Numa for results.