For many years, Pat's Peak has been one of the top ski resorts in New Hampshire with its attendance dramatically increasing each year. With the popularity of skiing and snowboarding continuing to grow, the resort has begun to expand their capacity to handle the rising demand. Construction of additional facilities required drilling rock sockets to support electrical and telephone poles.
The installation of the utility poles required an 17-1/2 inch (445 mm) rock socket to be drilled to a minimum depth of 5 feet (1.5 m) through solid granite ledge. To further complicate matters, the granite ledge protruded out of the ground on some very steep embankments of the mountainside. With over 30 years of experience in this type of application and one of only a few contractors capable of taking on such a job, Utility Service & Assistance was contracted to complete the installation of the utility poles.
In the past, these types of holes were typically completed by blast hole drilling and excavating. However, this method was extremely costly, very dangerous and not environmentally sound. Utility Service & Assistance called upon Numa's for some insight into other possible methods for completing the rock sockets. Numa suggested using DTH hammer drilling as a faster, safer and cost-saving alternative to blasting and excavating. Based on that recommendation, Utility Service & Assistance purchased a Numa Challenger 125 hammer with an 17-1/2 inch (445 mm) bit.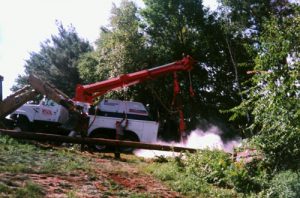 Numa's 125 hammer is capable of drilling holes from 12-1/2″ to 20″ (311 – 508 mm) in diameter in vertical and horizontal applications. Designed for long life and fast penetration rates in hard rock conditions, the hammer is perfectly suited for completing rock sockets, caissons, foundation holes, elevator shafts, exploration drilling, blast holes, water wells or any other rock drilling project.
Drilling at Pat's Peak was conducted off Utility Service & Assistance's custom made drill rig with a 900 CFM / 125 PSI (425 l/sec 9 bar) Grimmer Schmidt compressor. Once positioned over the hole location, the drill rig would lower the Numa 125 hammer with 18 inch (457 mm) bit to the granite ledge to commence drilling. Results from the drilling were tremendous as the Numa 125 completed 15 rock sockets over the course of only two days.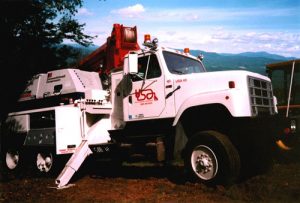 Although Numa's 125 hammer provided an efficient, cost-saving solution for drilling in difficult conditions, it was the high level of personal services that Numa provided that made the big difference. Numa recommended and explained the benefits of DTH drilling to Utility Service & Assistance and how it could help them accomplish installation of the utility poles faster and easier. The company also provided additional support from start to finish of the project including the delivery of the hammer, assisting with drilling start-up, and technical assistance during the actual drilling. Thanks to Numa and Utility Service & Assistance, Pat's Peak Resort will now be able to accommodate and satisfy many more skiers for many winters to come.