Since 1972, Clearwater Water Well Drilling has been installing water wells for customers all across the state of Maine. Throughout the years, Clearwater has become all too familiar with the hard granite formations that Maine is famous for and has been searching for DTH products that can drill efficiently in this difficult environment. That is, until now!
With the introduction of the Patriot® 60 (P60) hammer by Numa, Clearwater now has the best DTH hammer they have ever used and are experiencing incredible results. What used to take a full day to drill now takes much less time and at an overall lower cost due to savings from fuel consumption and additional total footage being drilled. It is a combination of penetration and performance that makes the Patriot® 60 stand above all other hammers for Clearwater.
The Patriot® has a wealth of impressive features that are headlined by its penetration rate. The ultimate goal of the hammer is to provide the industry with a complete combination of speed and life. The Patriot® 60 outdistances competitive hammers in both speed and longevity. A compact design allows for the transfer of drilling energy to the bit quickly and efficiently to promote faster drilling speeds and allows drillers to complete more wells in less time.
Clearwater has been extremely impressed with the hammer's overall penetration rates. Previously, Clearwater was drilling 300 feet (92 m) per day in hard granite but once they switched to the Patriot® 60, they have seen a jump up to 400 feet (122 m) per day. This is equivalent to a 25% increase in penetration and total drilled footage. All drilling was conducted on a new Jaswell 1200 rig with a 1050/350 CFM/PSI (495 l/sec/23.8 bar) compressor.
The Patriot® 60, with only 8 major parts, is a simplified hammer design that was accomplished by eliminating several internal components. Less overall parts make the Patriot® 60 easier to maintain than competitor hammers, which means more time can be spent drilling. Numa engineers also designed the hammer to attach the feed tube assembly directly to the backhead of the hammer to provide outstanding alignment of all hammer parts. This enhancement results in longer hammer life and improved overall hammer performance.
With a more efficient design, the Patriot® 60 is less costly to run. The hammer is very efficient and requires less air volume to operate at peak production. So, in effect, the hammer drills faster while using less fuel than any other competitor hammers. Clearwater has benefited significantly since beginning to use the Patriot® 60 as they have realized a whopping 33% reduction in overall fuel consumption. What used to take 3/4 of a tank of fuel to drill now requires approximately a 1/2 tank.
Another key feature of the Patriot® 60 is the ability to handle difficult back pressure drilling conditions. When faced with high heads of water, the Patriot® will continue drilling efficiently where most competitor hammers stop working. This is an extremely important benefit for Clearwater because of the conditions they drill in. It is not uncommon in this region to drill against 60 to 100 gallons (227 – 380 l) of water in the hole at any given time, which is no problem for the Patriot® 60. In addition, because the Patriot® 60 drills so rapidly, Clearwater needs to inject 10 – 15 gallons (38 – 57 l) per minute in order to clean the hole. Typically, this amount of water would drown most competitor hammers but the Patriot® 60 continues to drill with no performance issues.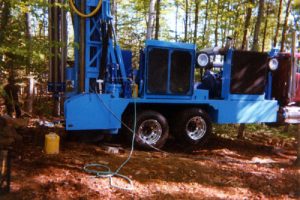 The Patriot® 60 has amazed Clearwater by increasing their penetrations rates by 25%, reducing overall fuel cost by 33% and providing an unparalleled ability to handle difficult back pressure conditions. With over 20,000 feet (6,100 m) drilled with their Patriot® 60 hammer, Clearwater Water Well Drilling has not seen a loss of pressure in the hammer and will continue to yield significant savings and increased profitability. Contact Numa today at 800 356-NUMA or +1 860 923-9551 to get a head start on drilling with the best hammer in the business – The Numa Patriot® 60.
Get to the bottom of it with Numa.