THOMPSON, CONNECTICUT USA
Numa, the world's leading drilling technology provider, will be exhibiting at CONEXPO-CON/AGG 2023, North America's Largest Construction Show. The show runs March 14-18 in Las Vegas, Nevada. Numa will be exhibiting in South Hall S62521 with drilling experts on hand to discuss any drilling needs.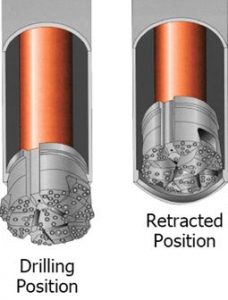 The company's stand will showcase a full line of Made in the USA rock drilling hammers and bits, capable of drilling in a wide range of rock formations and conditions. A special spotlight will be on their Super Jaws Overburden Bits used for simultaneously drilling and casing 5½" to 48" (139 – 1219 mm) holes in hard rock and unconsolidated ground conditions of overburden, boulders, or bedrock. With its unique design, Super Jaws utilizes wings that extend out to drill a full diameter hole while in the drilling position. Upon completion of drilling, the wings retract back into the guide body for extraction of all tooling to the surface while leaving the casing in place. There is no reverse rotation required, nor any expensive rings left in the hole, which saves drillers time and money in applications around the world.
The company will also feature its Casing Ring Bit Systems for simultaneously drilling and casing vertical or horizontal holes in piling, foundation, anchoring, geothermal, and other casing applications. The system consists of a pilot bit, casing shoe, and heavy-duty ring bit for drilling holes 16″ to 48″ (406 – 1219 mm) in diameter. Options are available for both drill through and non-drill through applications requiring the installation of casing into bedrock. It is a complementary product to Numa's highly successful Super Jaws® Overburden Bits and Impact Ring Bit Systems®.
Stop by and visit Numa in South Hall Booth S62521.
ABOUT NUMA
For over 37 years, Numa has demonstrated an unwavering commitment to designing and manufacturing true Made in the USA rock drilling products. Our long history of innovation and expertise has resulted in a full line of dependable DTH and HDD products for drilling 3½ to 50½ inch (89 – 1283 mm) diameter holes in hard rock, overburden, or loose strata formations. Numa also provides some of the industry's best rock drilling experts providing a wide array of insight on drilling methods, tooling, fluids, bits, reamers, rock tools, swivels, and more.