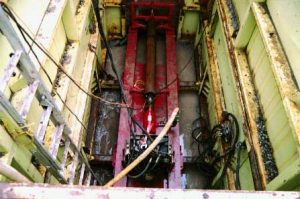 More and more contractors are now using DTH hammers to drill horizontally in difficult ground conditions that include rock. This was the case at a community recreation center in Western Canada. The drainage system for the local swimming pool required the installation of an 8″ (203 mm), 100 foot (31 m) long piece of casing underneath the pool. Horizontal boring with a DTH hammer was chosen as the preferred manner to complete this project.
Pacific Underground employed a rock boring system that consisted of a hydraulic boring machine, a Numa Impact Ring Bit System with a Numa 80 hammer, Truespin hollow core augers, a heavy duty side inlet swivel and a 450/200 (212 l/sec / 13.6 bar) compressor. What made the process unique was the ability of Numa's Impact Ring Bit System to simultaneously advance the casing with the hammer as drilling was being conducted. When the drilling was completed, the hammer, augers and center bit were removed out of the hole while leaving the casing securely in place.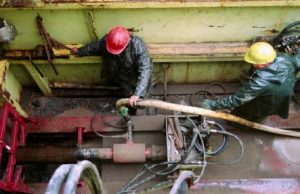 At the end of the project, the contractor commented, "Traditional drilling allows progress of about 15 feet (5 m) per day, a lot less if rock is encountered. With the Numa Impact Ring Bit System and the Numa 80, the total drilling time was less than two (2) hours for 100 feet (31 m). This is definitely the most efficient means to drill in this type of conditions."
The Numa 80 is a specially designed DTH hammer for horizontal drilling. At just 48-3/8″ (1229 mm) in length, the hammer doesn't require a large pit that makes it perfectly suited for any condition where size may be a concern when drilling rock.
The Impact Ring Bit System consists of a unique two-piece design incorporating a center and ring bit combination. The center bit is attached directly to the DTH hammer that will be used to power the drilling while the ring bit is welded to the casing being installed. The hammer and center bit are inserted through the casing and the two bits work in unison to install the casing while drilling. Upon completion of the hole, the center bit and drill string can be pulled back out the hole leaving the casing installed. The ring bit is also fully recoverable in horizontal applications that utilize pit to pit drilling techniques. This provides the added benefit of lower equipment costs because the product can be used again and again on multiple projects.